Charging your electric car, made easy
Get set with home EV charging from just £27.50 per month
Say hello to hassle-free charging
Simply sign up to the Egg EV charger plan online, pick your installation date and we take care of the rest. Enjoy convenient and cheaper EV charging at home from just £27.50 per month with 0% APR over 3 years. Plus, our repair-or-replace promise means you can count on Egg to keep your EV ready to roll.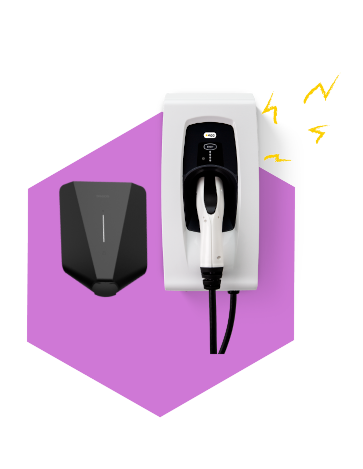 What do I get?
Fully installed home EV charger

Choice of Type 2 socket only or with Type 2 socket cable attached

Repair-or-replace promise

Smart charging EV app

Dedicated customer support

Flexible install dates from 2 weeks to 3 months
Egg EV Charger Plan
from £27.50 / month
EV Charger & Installation (from £24.50/month)
+
Egg Plus (£3/month)
Want to pay upfront?
You can get a brand new Egg charger from just £882. Type "Pay upfront" into our helpful chatbot Ezra to get started with your order.
You can find Ezra in the bottom right corner
Our Egg EV Charger Plan:
EV Charger & Installation
One loan for your charger & install
(0% APR over 3 years)
Based on interest free Consumer Credit Agreement provided by Phoenix Renewables Limited.
Your total payment during the contract period is £882.
Egg Plus
Monthly plan
(3 year term and monthly rolling thereafter)
The plan that takes all the hassle from you and leaves it all to us.

Remote monitoring and troubleshooting

"No fuss" repair-or-replace your charger if anything goes wrong

Smart charging EV app

Dedicated customer support
Please note there is a cancellation fee if cancelled during the 3 year minimum term.
Our chargers work with all electric vehicles


















Simple and smart EV charging
Guaranteed quality: We've got a cracking EV charger. But if anything happens, with our Egg EV Charger Plan and repair-or-replace promise, we'll be there in a flash to fix it.
Get set up for less: Spread the cost of your home EV charger and installation across 3 years for just £24.50 a month with 0% APR (subject to credit check).
We've got you: We don't have to say goodbye at the end of your 3 year contact. For just £3 per month we can keep your charger covered with Egg Plus, our service subscription with repair-or-replace promise.
How it works
01 Check eligibility
Answer a few quick questions to help us understand where you would like your electric car charger installed and what kind of installation you'll need for it.
Why sign up?
We're glad you asked. In short, when you have your new electric car charger installed you don't want to be left to your own devices (literally). When you're with Egg, we've got you covered for total peace of mind.
Quality home charger
You'll get our premium smart EV charger installed at your home, tried and tested by our team. 
Expert installation
We can handle standard and custom installations, for those tricker setups. Find out which one is right for you 
Smart charging app
Control and optimise your EV charging from your phone to charge at greener and cheaper times. 
Flexible installation days
Choose your installation day, morning or afternoon, from 2 weeks to 3 months in advance. 
Repair-or-replace promise
If there's ever an issue, we'll either repair or replace your EV charger to get you back up and running. 
Spread the cost
For complete peace of mind, easily spread the cost of your EV charger and its standard installation over 3 years. 
"The service is excellent from the planning stage to installation."
Bridget, Derby
Questions about charging?
Our Egg EV Charger Plan is currently only available in the UK right now. All you need is access to private, off-street parking and the permission to install a charge point if you don't own your home (e.g. if you're renting).
What chargers are available?
There are lots of different chargers out there, and it can be a bit overwhelming. To make things simple, we only offer one charger that we fully believe in. Our charger of choice is the Indra Smart PRO - after testing all of the chargers on the market, we think this one is cracking!
As part of Egg's EV Charger Plan you can choose to have a socket only charger or a cable attached charger, it's up to you! Some people prefer to have the cable on hand to quickly plug in their electric car, others like to keep it tidy with just the charger on the wall, which are you?
Is it compatible with any electric vehicle?
Yes, our services are fully compatible with all electric vehicles.
Will I own the chargepoint?
Yes. You will own your charger from the moment we install it at your property. Our EV Charger Plan is simply an easy way to buy a charger, spreading the cost over 36 months. Plus, with Egg Plus included, you can sit back and relax knowing your charger is covered if anything goes wrong.
What can I do with the app?
You can manage your charger remotely from our web app. Once you've had your charger installed, you will be given the login details. After which, you can schedule when your car should charge (e.g. at the cheapest or most convenient times), track how much you are spending and ask for support.
What is the difference between a standard and custom installation?
90% of our installations are standard and covered with your monthly payment, we ask some questions as part of the sign-up process to identify if this will be the case. If it'll take our engineers longer than 4 hours to install at your home, we may need to charge a custom install fee of £239 which will come out with your first payment. If we identify this at site, our engineer will let you know before starting the job.